Crypto This Friday: XRP Jumps After Victory Against SEC, Multichain Shuts Down Trades, and More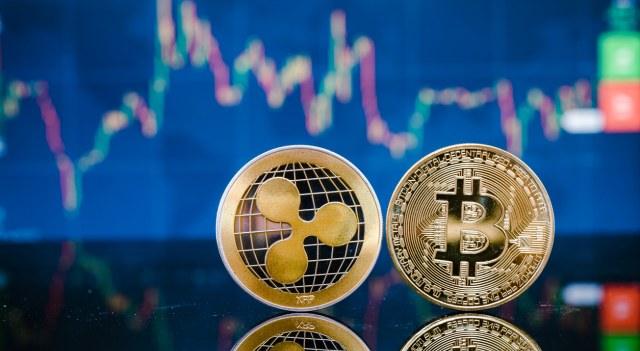 Ripple's XRP rises over 60% after partial victory against SEC, reclaiming fourth place in market cap
Ripple's cryptocurrency XRP (COIN:XRPUSD) has seen a surge of over 60% after a partial victory against the SEC, ending a three-year lawsuit. This led to a $73.5 billion increase in the total cryptocurrency market cap, with XRP overtaking BNB (COIN:BNBUSD) and reclaiming fourth place in market cap. Bitcoin (COIN:BTCUSD), Ethereum (COIN:ETHUSD), Stellar (COIN:XLMUSD) and other altcoins also posted significant gains during this period. Shares of Coinbase Global Inc (NASDAQ:COIN) had an increase of almost 25% on Thursday, and announced that it would allow the XRP token to be traded again on its platform, in accordance with the court ruling. Other companies in the industry also saw significant gains: Riot Platforms Inc (NASDAQ:RIOT) was up 15%, Marathon Digital Holdings Inc (NASDAQ:MARA) was up 14.5%, Microstrategy Inc (NASDAQ:MSTR) gained 11.7% and Hut 8 Mining Corp (NASDAQ:HUT) added 17.7%.
Multichain shuts down operations after CEO arrest and embezzlement
The Multichain protocol (COIN:MULTIUSD), which allows communication between different blockchains, has announced the closure of its operations due to the arrest of CEO Zhaojun and his sister by Chinese police. Since May, Zhaojun's absence has affected the functioning of the protocol, as all nodes and servers were under the personal control of the CEO. Furthermore, the protocol funds were also under the control of the detained CEO. Zhaojun's sister played a complicating role by illegally transferring users' assets.
Former Celsius CEO faces $40 million bail
A US judge has set bail at $40 million for former Celsius CEO Alex Mashinsky, who is facing fraud charges. Mashinsky pleaded not guilty and agreed to post bail for personal recognition. The bond will be secured by his New York residency and a bank account. He will have travel restrictions and will not be able to open new financial accounts without approval. Mashinsky faces lawsuits from several federal agencies, including the SEC, CFTC and FTC. He is accused of artificially inflating the value of the CEL token (COIN:CELUSD) and misleading investors.
Exchange OKX registers growth in Hong Kong
Cryptocurrency exchange OKX has seen significant growth in Hong Kong, with more than 10,000 new users in just one month after launching its enhanced app. The company invested in talent to comply with the new regulations on Virtual Asset Service Providers (VASPs) in Hong Kong. The positive response demonstrates the interest and potential of the local market. OKX's adaptation to global regulatory changes highlights the resilience of the crypto industry.
US SEC recognizes BlackRock and Bitwise Bitcoin ETF applications
The U.S. Securities and Exchange Commission (SEC) has officially recognized spot Bitcoin ETF orders from asset managers including BlackRock (NYSE:BLK) and Bitwise. In addition, the SEC reviewed applications for funds such as the Wise Origin Bitcoin Trust, WisdomTree Bitcoin Trust, VanEck Bitcoin Trust, and Invesco Galaxy Bitcoin ETF. Bitwise, which first applied for a Bitcoin ETF in October 2021, modified and re-submitted its application in June of this year. The total assets under management (AUM) of companies that have filed applications for Bitcoin ETFs amounts to around $15.39 trillion.
Next Bitcoin halving will be crucial test for miners, says JPMorgan
The upcoming Bitcoin (COIN:BTCUSD) halving will be a crucial test for miners, according to JPMorgan (NYSE:JPM). Miners with lower electricity costs will have an easier time dealing with reduced rewards, while those with higher costs may struggle. " According to our current bitcoin production cost model, a change of one cent per kWh [kilowatt hour] in the cost of electricity induces a $4,300 change in the cost of producing bitcoin ", said the analysts. The halving, which halves the reward for mining new Bitcoin blocks, poses challenges for miners to adapt and remain profitable. Competition among miners is increasing, but Bitcoin's hash rate may not continue to rise after the halving without a sustained increase in price or transaction fees.
TrueUSD owner takes full control of operations
The owner of the stablecoin TrueUSD (COIN:TUSDUSD) has taken full control of operations, more than two and a half years after acquiring the company ArchBlock. British Virgin Islands-based Techteryx bought the business in December 2020, but ArchBlock has continued to run operations. Now, Techteryx has taken over the complete management, including minting, redemptions, onboarding and customer compliance. TrueUSD is the fifth largest stablecoin, backed by Binance, keeping trading fee-free.
Project World Mobile acquires licensed spectrum to provide decentralized connectivity in the US
Decentralized network operator World Mobile acquired licensed spectrum in four US states – California, New Mexico, Nevada and Utah. This will allow the company to implement its decentralized hybrid connectivity solution, which combines blockchain and air and ground infrastructure to provide reliable and affordable internet access to underconnected areas across the US. World Mobile's entry into the decentralized wireless network aligns with the US government's efforts to improve connectivity across the country. The company plans to launch its services in the US later this year.
Saga Protocol attracts 224 projects to its gaming-focused Innovator Program
Web3 scalability protocol Saga attracted 224 projects in less than a year to its Innovator Program. Most of these projects (80%) are focused on games. The program offers comprehensive developer tools and features, eliminating the need to build back-end systems. Saga has established strategic partnerships with companies such as Celestia Labs, Polygon and Ava Labs. The company enables the creation of gaming and entertainment applications with their own dedicated tile space, improving scalability and interoperability. Saga is on a mission to transform the way developers create gaming experiences, and its partnership with multiple companies drives that vision.
Mutiny Wallet launches public Beta phase to offer customizable bitcoin fund tracking
Mutiny Wallet, a self-custodial web-based Lightning wallet, has launched its public beta phase, allowing users to control their own funds without relying on downloads from Apple (NASDAQ:AAPL) or Google (NASDAQ:GOOGL) app stores. The company stated that many Bitcoin wallets are limited due to the strict requirements of app stores, making Bitcoin (COIN:BTCUSD) less accessible for global internet users. The Mutiny Wallet utilizes Block's Lightning Development Kit project (NYSE:SQ) by Jack Dorsey to offer customizable control and has partnered with Lightning Voltage to simplify liquidity management. The wallet is still under development and looks to offer unified balances and automatic payments in the future.
More than 2 million users sign up for Worldcoin's World ID protocol
Cryptocurrency and digital identification project Worldcoin has seen more than 2 million users sign up for its global identity protocol called World ID. The project, still in beta, surpassed the 2 million mark in less time than it took to reach the first million. World ID aims to provide users with a global digital passport, stored on their phones, to prove their identity and protect their privacy using zero-knowledge proofs. Users are rewarded for scanning their eyeballs in an orb to create a unique "IrisHash". Worldcoin attributed the increase in sign-ups to its recent multi-city tour and expects the eye-scanning devices to become more available globally in the coming months. Other protocols such as Auth0 and Talent Protocol are also integrating World ID and Worldcoin into their procedures.
Public survey results reveal concerns about digital UK pound sterling
The British government conducted a public poll into creating a digital pound sterling, and the results were surprising. Around 50,000 responses were received, revealing widespread concern about privacy and possible consequences for the financial system. Many feared that the digital libra could be used to surveil citizens and destabilize commercial banks. However, advocates argue that digital Libra could boost financial inclusion. There are also concerns that CBDCs are an attempt to weed out decentralized cryptocurrencies. Overall, the decision to implement a digital pound is still a long way off and requires careful consideration.
Indonesian government to launch national cryptocurrency exchange soon
The Indonesian government is moving forward with its plans to launch a national cryptocurrency exchange and expects to debut the platform in the coming weeks. The Indonesian Commodity Futures Trading Supervision Agency (Bappebti) plans to launch the national crypto exchange in July 2023. The platform will be the only platform allowed for cryptocurrency transactions in the country and will offer trading through an integrated app. Bappebti also intends to restrict cryptocurrency sales to local transactions, keeping them in line with international market developments.
Legitimate, PUMA and Roc Nation collaborate to launch NFT sneaker collection
Non-fungible token (NFT) company Legitimate is collaborating with PUMA and entertainment agency Roc Nation to launch a sneaker collection called "Mixtape Evolution." The shoes incorporate a Legitimate NFC chip, allowing buyers to access exclusive Roc Nation music content. The partnership aims to honor hip-hop and expand fans' access to the music of their favorite artists. Utilizing NFC chips in physical products helps connect the fashion world with blockchain technology and promotes brand loyalty.
Christie's and Gucci launch digital art NFT Collection "Future Frequencies: Explorations in Generative Art and Fashion"
Auction house Christie's and luxury fashion brand Gucci have teamed up to release a collection of digital art non-fungible tokens (NFTs). The collection, titled "Future Frequencies: Explorations in Generative Art and Fashion," features 21 NFTs created by artists including Claire Silver, Emily Xie, and Botto. The auction will take place on Christie's 3.0 platform and will start on July 18th. The NFT collection is inspired by Gucci fabrics and aims to explore the intersection of art, fashion and technology. The partnership between Christie's and Gucci combines art and fashion expertise to offer a unique experience to collectors and fashion lovers.