Recent Reversal And Heavy Buying Continue To Send PURA Shares Higher
October 3, 2019 -- InvestorsHub NewsWire -- via Seeking Alpha
Oct. 3, 2019 9:33 AM ET|About: Puration, Inc. (PURA), Includes: KALY, NOUV




Originally Published On Seeking Alpha: www.seekingalpha/PURA

· PURA – Puration Enters $1.7 Billion European CBD Market with New Distribution Agreement For Its EVERx CBD Sports Water
· PURA – Puration Clarifies $4 Million Distribution Agreement On Top of Existing $4 Million Revenue Target
· PURA and NOUV Make Headway In $13 Billion Industrial Hemp Market – Update Issued Today On Revenue Growth and Stock Dividend
· PURA – Puration Confirms CBD Beverage Order From Distributor Supplying Multi-Billion Euro Retail Grocery Chain Anticipated To Close This Week
· PURA shares recently broke out to the upside on heavy buying reversing downtrend and are now advancing on exceptionally heavy volume.
· Recent coverage by Goldman places new target price of $.35.
After over a year of making the right moves to become a serious CBD beverage supplier, shareholders are now seeing the company's remarkable progress reflected in a dramatic turnaround of the share price that has slowly declined from $.25 over the past 12 months.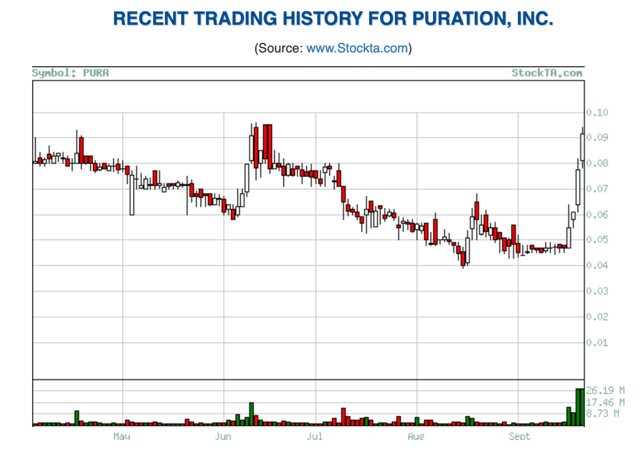 PURA is announcing what seems like a whirlwind of big distribution deals for its leading water seller, EVERx sports water that could generate much larger than expected sales and for exciting new products such as Tranquilitea.
Goldman Small Cap Research report recently released coverage on PURA and revised the price target upward from $.25 to $.35.
PURA Announces Trade Alert Featuring "Rare Entry" Opportunity With "Triple" Potential
DALLAS, Oct. 2, 2019 /PRNewswire/ -- Puration, Inc. (PURA) today announced a research analyst trade alert highlighting a "rare entry" price opportunity for the shares of PURA and the potential for the share price to triple from current levels. Early last week, PURA reached a PPS of $0.09 more than doubling the PPS from a week earlier. On Wednesday last week, September 25th, 2019, Goldman Small Cap Research issued an analyst research report recommending a speculative buy and $0.35 target PPS. Since that time, the PPS has retraced to close yesterday at $0.06. In reaction to the recent trading activity, Goldman today issued a trade alert.
"In recent trading sessions, PURA's stock has taken it on the chin, and undeservedly so, in our opinion, Savvy investors seeking huge returns from a major bounce-back candidate should strongly consider current prices as an entry point to establish or build on their position. For a number of reasons, we believe PURA will trade three times higher or more in the coming weeks."
Two weeks ago, Goldman published the initial results from a CBD Beverage Industry Survey it had conducted on behalf of a PURA initiative to launch new CBD infused beer, coffee and tea beverages. The trade alert today indicates the definitive survey results and analysis will be coming next week.
The Goldman alert today offers commentary on possible explanations for the recent PURA trading activity:
"Ass-Backwards: So, let me get this straight, sales are going to double, new markets are opening, other initiatives are in process and the stock is going down? Buy on rumor sell on news, huh? Fundamentally, PURA is in its best position ever, the valuation is compelling, and the CBD train is picking up steam. These situations rarely do not right themselves and seasonally, we foresee the bulk of big gains over the next 4-8 weeks."
To see the full trade alert issued today, follow the link below:
PURATION, inc. - Rare Entry Point Opportunity for Savvy Investors - PURA Shares Could Triple in Coming Weeks
To see the full Analyst Report issued last week, follow the link below:
PURATION, INC. - New Products and Untapped International Opportunity Drive New Price Target to $0.35
For more information on Puration, visit http://www.purationinc.com
Disclosure: I/we have no positions in any stocks mentioned, and no plans to initiate any positions within the next 72 hours.
SOURCE: Seeking Alpha