AABB GOLD STOCK EXCEPTIONALLY UNDERVALUED AND POISED FOR SHARP REVALUATION
September 6, 2019 -- InvestorsHub NewsWire -- via BioResearch Alert
Sep. 5, 2019 8:59 PM ET|About: Asia Broadband, Inc. (AABB), Includes: AXU, GPL, HMY, SAND


Asia Metals, a wholly owned subsidiary of Asia Broadband, Inc. (AABB: OTC) is an outstanding and highly undervalued candidate in the hot gold mining sector. AABB has already begun or accomplished every single bullet listed above and is expected to announce further news throughout 2019 and beyond that will likely impact the share price dramatically.
Readers are encouraged to click on the links in the bullets above.
Management recently announced that there will soon be an update of existing gold mine activity and on that acquisition pipeline.
Asia Broadband Inc. (AABB), through its wholly owned subsidiary Asia Metals Inc. plans to publish a management update next week on Thursday, September 5, 2019. The update will include on the latest developments with the company's high-density, shallow goldmine in Guerrero, Mexico and on the company's recently announced gold mine acquisition campaign targeting properties that have historic gold production in South America, Central America and Mexico.
The company recently reported $2.75 million in 2019 YTD gross profits from its overall operations and the update next week will include further details on the company's previously disclosed $5 million gross profit target for year-end 2019. Learn more about ongoing operations, the Guerrero gold mine, and the new gold mine acquisition campaign next week in the management update.
Asia Broadband Inc. (AABB), through its wholly owned subsidiary Asia Metals Inc., is a resource company focused on the production, supply and sale of precious and base metals, primarily to Asian markets. The Company utilizes its specific geographic expertise, experience and extensive industry contacts to facilitate its innovative distribution process from the production and supply of precious and base metals in Guerrero, Mexico, to our client sales networks in Asia. This vertical integration approach to sales transactions is the unique strength of Asia Broadband and differentiates the Company to its shareholders.
Market Comps
Emerging MicroCaps reviewed 4 comparable junior gold mining stocks and concluded that AABB is highly undervalued and unrecognized. Given the current run rate of about $5 million per year in sales, the following table concludes that AABB shares would be selling at about 25.78 times sales, or about $128 million. With a total outstanding of 402 million shares, that translates to a fair market price of $.32 per share.
Company Symbol Price/Sales Ratio
Alexco Resource Corp. AXU: NYSE 14.65
Great Panther Mining Limited GPL: NYSE 4.13
Harmony Gold Mining Company Ltd. HMY: NYSE 70
Sandstrom Gold Ltd. SAND: NYSE 14.34
Total 103.12
Average Price to Sales Ratio 103.12 divided by 4 = 25.78
Asia Broadband, Inc.
2019 sales $5,000,000
P/S ratio of 25.78 = Mkt Cap - $128,900,000
$128,900,000 divided by 402 million shares equals $.32 per share
CURRENT FINANCIALS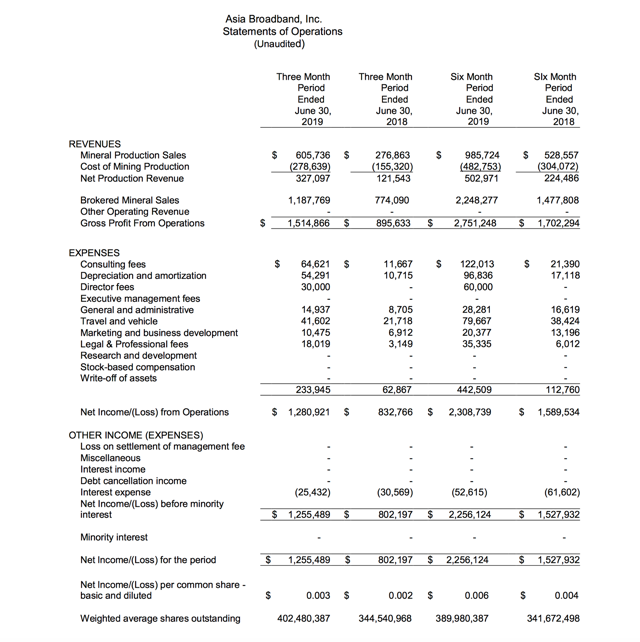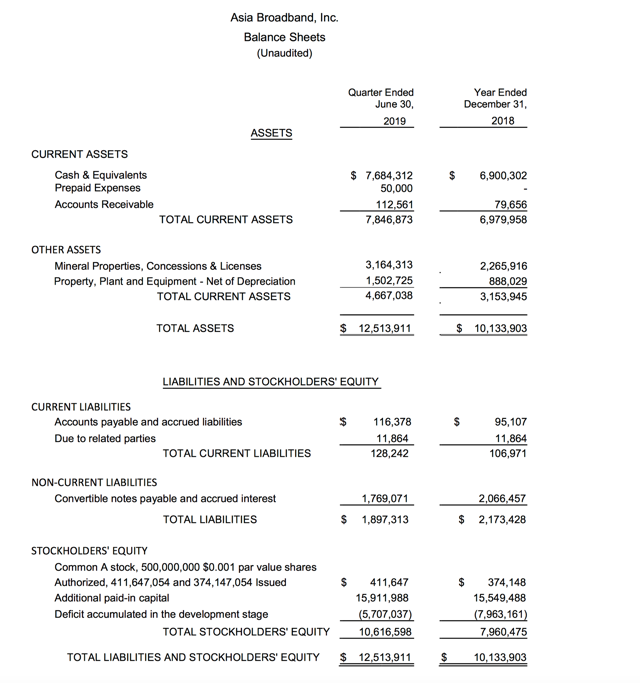 Conclusion:
AABB is already over half way to the $5 million in sales as of June 30, 2019 and management is forecasting that they will beat $5 million.
When sales of $5 million are reported, expect investors to take notice that will value shares closer to current market comparison values.
Emerging MicroCaps places AABB 12-month target at $.32 per share.
Legal Disclosure:
Except for the historical information presented herein, matters discussed in this release contain forward-looking statements that are subject to certain risks and uncertainties that could cause actual results to differ materially from any future results, performance or achievements expressed or implied by such statements. Emerging MicroCaps or BioResearchAlert or its principals may have been compensated for its services. The Information contains forward-looking statements, i.e. statements or discussions that constitute predictions, expectations, beliefs, plans, estimates, or projections as indicated by such words as ''expects,'' ''will,'' ''anticipates,'' and ''estimates''; therefore, you should proceed with extreme caution in relying upon such statements and conduct a full investigation of the Information and the Profiled Issuer as well as any such forward-looking statements.
Disclosure: I/we have no positions in any stocks mentioned, and no plans to initiate any positions within the next 72 hours.

Original Article Published On Seeking Alpha:

https://seekingalpha.com/instablog/21922151-bioresearch-alert/5348322-aabb-gold-stock-exceptionally-undervalued-poised-sharp-revaluation
Source: BioResearch Alert