U.S. Stocks Move Mostly Higher, Nasdaq Reaches Best Closing Level Since Late July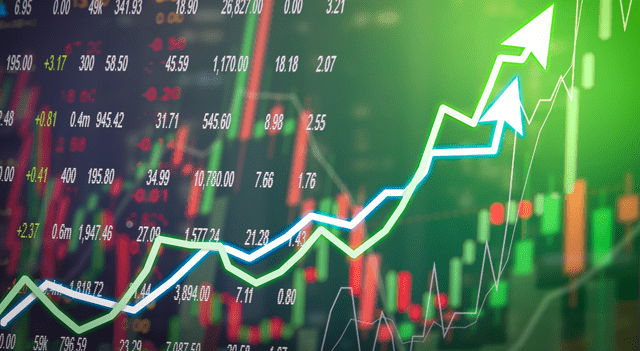 Following the lackluster performance seen to close out the previous week, stocks moved mostly higher during trading on Monday. The tech-heavy Nasdaq led the advance, reaching its best closing level since late July.
The major averages pulled back off their highs going into the close but remained firmly positive. The Nasdaq jumped 159.05 points or 1.1 percent to 14,284.53, the S&P 500 climbed 33.36 points or 0.7 percent to 4,547.38 and the Dow rose 203.76 points or 0.6 percent to 35,151.04.
The strength on Wall Street partly reflected recent upward momentum, which comes amid ongoing optimism about the outlook for interest rates.
Recent data showing signs of easing inflation has reinforced investor expectations that the Federal Reserve will leave rates unchanged at upcoming meetings.
CME Group's FedWatch Tool currently indicates the Fed is likely to remain on hold until cutting rates beginning in mid-2004.
Potentially shedding additional light on the outlook for rates, the Fed is due to release the minutes of its latest monetary policy meeting on Tuesday.
Stocks saw further upside in afternoon trading, as treasuries yields pulled back following the release of the results of the Treasury Department's auction of $16 billion worth of twenty-year bonds.
However, overall trading activity this week may be somewhat subdued due to the Thanksgiving Day holiday on Thursday.
The Conference Board released a report this morning showing its reading on leading U.S. economic indicators fell by more than expected in the month of October.
The report said the leading economic index slid by 0.8 percent in October after falling by 0.7 percent in September. Economists had expected the index to decrease by 0.6 percent.
Sector News
Tobacco stocks showed a substantial move to the upside on the day, with the NYSE Arca Tobacco Index soaring by 4.2 percent to its best closing level in well over three months.
Significant strength also emerged among software stocks, as reflected by the 1.8 percent gain posted by the Dow Jones U.S. Software Index.
Shares of Microsoft (MSFT) jumped by 2.1 percent after CEO Satya Nadella revealed OpenAI co-founder and former CEO Sam Altman will be joining the software giant to lead a new advanced AI research team.
Airline stocks also saw considerable strength, driving the NYSE Arca Airline Index up by 1.6 percent to a two-month closing high.
Semiconductor, computer hardware and networking stocks also saw notable strength, contributing to the surge by the tech-heavy Nasdaq.
Other Markets
In overseas trading, stock markets across the Asia-Pacific region moved mostly higher on Monday. Hong Kong's Hang Seng Index shot up by 1.9 percent and China's Shanghai Composite Index rose by 0.5 percent, although Japan's Nikkei 225 Index bucked the uptrend and fell by 0.6 percent.
Meanwhile, the major European markets turned in a mixed performance on the day. While the French CAC 40 Index crept up by 0.2 percent, the German DAX Index and the U.K.'s FTSE 100 Index both edged down by 0.2 percent.
In the bond market, treasuries jumped into positive territory in afternoon trading after seeing early weakness. As a result, the yield on the benchmark ten-year note, which moves opposite of its price, dipped 1.9 basis points to 4.422 percent after reaching a high of 4.482 percent.
Looking Ahead
While the Fed minutes are likely to be in the spotlight on Tuesday, early trading may be impacted by reaction to earnings news from companies like Abercrombie & Fitch (ANF), Best Buy (BBY) and Lowe's (LOW).
For comments and feedback contact: editorial@rttnews.com