ECB Urges Caution Amid Central Bank Leaks, China Considers Bad-Debt Transfer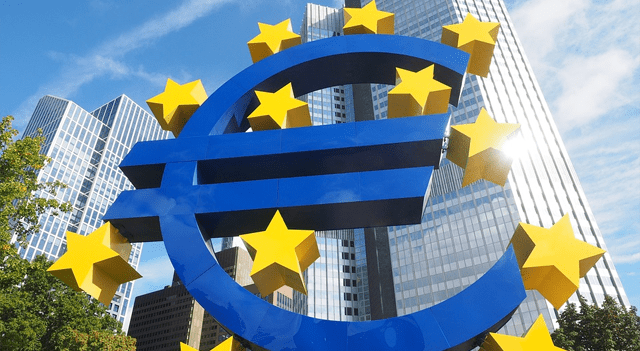 Ukraine's President Eyes Arab-League Military Support
Ukraine's President, Volodymyr Zelensky, arrived in Saudi Arabia to strengthen his country's ties with the Arab world at the Arab League summit. He will soon attend the G7 talks in Japan, where he aims to secure military support and promote his 10-point peace plan. In response, the G7 leaders, a group of affluent democracies, are expected to announce new sanctions and export controls against Russia, including a ban on Russian diamonds. These measures will impede Russia's access to supplies for its war efforts in Ukraine, according to officials.
UK Semiconductor Investment Falls Short
To address geopolitical tensions and disruptions in the supply chain, the UK has announced a £1 billion investment ($1.24 billion) in its domestic semiconductor industry. The strategy prioritizes research and design, focusing less on manufacturing. However, this investment pales in comparison to the $52 billion subsidies and incentives introduced by the United States, as well as the €43 billion ($46.4 billion) state aid provided in the EU.
Georgia Protests Russian Plane Arrival
Anti-Moscow sentiment runs deep in Georgia, evident as protesters gathered outside Tbilisi airport when a Russian passenger plane landed for the first time since 2019. Russia had previously banned air travel with Georgia due to anti-Moscow demonstrations. The country's history includes a five-day war with Russia in 2008 and currently hosts around 26,000 Ukrainian refugees displaced by Russia's invasion of Ukraine.
ECB Urges Caution Amid Central Bank Leaks
Over a 20-year period, the European Central Bank reported more than 360 leaks of sensitive information from within the eurozone's central banks. The ECB urged markets to disregard reports based on these leaks. After analyzing stories from financial news wires such as Bloomberg, Reuters, and MNI, the ECB found 368 stories linked to leaks from central bank insiders between 2002 and 2021. Although leaks often have a greater impact on markets than public statements from rate-setters, they are considered unreliable indicators of future decisions and should be treated with caution.
Treasury Yields Signal Economic Growth Surge
Yields on U.S. Treasuries have reached their highest levels since the collapse of Silicon Valley Bank, signaling a renewed expectation of economic growth and inflation among investors. While Treasury yields are still below their early March levels, they have broken through a two-month trading range, surprising investors who had viewed bonds as a safeguard against recession risks. Yields on longer-term Treasuries have risen for five consecutive sessions, pushing the yield on the 10-year note to 3.647% as of Thursday—its highest close since March 10, the day of Silicon Valley Bank's government seizure.
China Considers Bad-Debt Transfer
As part of a financial regulatory regime overhaul, China is contemplating transferring government ownership of its largest bad-debt managers to a unit of its sovereign wealth fund, Central Huijin Investment Ltd. This potential move involves the Ministry of Finance transferring its stakes in China Cinda Asset Management Co., China Great Wall Asset Management Co., and China Orient Asset Management Co. to Central Huijin Investment Ltd. Such a shift aims to enhance financial stability and regulation in China, as reported by individuals familiar with the matter.
Oil Prices Rise
Oil prices are poised for their first weekly gain in over a month due to growing optimism that the US will reach an agreement to raise its debt ceiling and avoid a catastrophic default. West Texas Intermediate futures have surpassed $72 a barrel, resulting in a roughly 3% increase for the week. House Speaker Kevin McCarthy expressed hope that negotiators may reach an agreement in principle by the upcoming weekend.
China's Yuan Jumps to Stabilize Currency
China's yuan experienced a jump on Friday following efforts by the country's central bank to stabilize the currency after recent selling pressure. The central bank vowed to curb speculation and emphasized the need for greater stability in the foreign exchange market.
Indo-Pacific Agreement Nearing Completion
A potential agreement on supply chain coordination among fourteen countries involved in US-led Indo-Pacific trade talks is nearing completion, with an announcement expected as early as next week, according to sources familiar with the discussions. The negotiators aim to reveal the agreement during a ministerial meeting in Detroit on May 27. The discussions primarily focus on establishing systems for early warnings when countries detect potential disruptions to supply chains. The objective is to prevent global disruptions similar to those experienced during the COVID-19 pandemic.
Japan Inflation Surges
In April, Japan experienced a re-acceleration of inflation, signaling a potential need for the central bank to reassess its price outlook and move closer to policy normalization. The internal affairs ministry reported that consumer prices, excluding fresh food, rose by 3.4% compared to the previous year. This increase was driven by gains in processed food and hotel prices, aligning with analysts' forecasts.