Crypto This Monday: Ant Group Abandons Crypto Fund, Blockchain Capital Raises US$580 Million, and More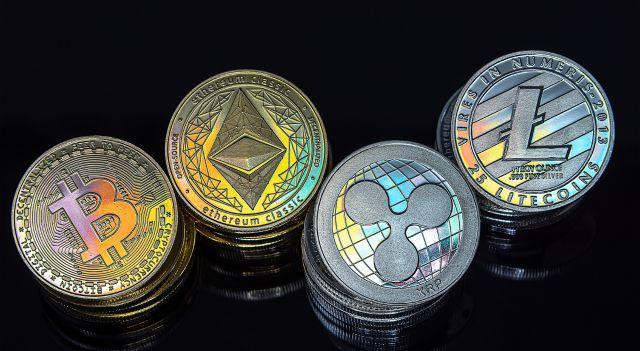 Ant Group withdraws from crypto fund after controversies
Chinese fintech giant Ant Group is parting ways with crypto fund A&T Capital, which had a value of $100 million and focused on international crypto projects. A&T Capital, founded with the support of Ant Group in 2021, had already invested in renowned startups in the sector. Ant Group's move comes after the resignation of A&T co-founder Yu Jun amid allegations of sexual harassment. With the departure of Ant Group, the future of A&T Capital is uncertain, and the fund has remained silent on recent developments.
PayPal and the future of stablecoins: Perspective from William Quigley
William Quigley, co-founder of Tether, expressed skepticism about PayPal's (NASDAQ:PYPL) PYUSD (COIN:PYUSDUSD) token bringing significant innovation to the stablecoin market. In an interview with CoinDesk, Quigley stated that he sees PayPal's move more as a cost-saving measure than an innovative initiative. While Tether (COIN:USDTUSD) dominates the market, PayPal's global reach could potentially reconfigure the stablecoin landscape. Quigley, who previously invested in PayPal, noted that the company's new approach could eliminate financial intermediaries, making transactions more efficient and less costly.
Warren pushes crypto and money laundering legislation
US Senator Elizabeth Warren has won growing support from Democratic leaders, including Senators Dick Durbin and Gary Peters, in her effort to pass a bill combating cryptocurrency money laundering. Despite the House's progress on other crypto-related proposals, Warren's bill is considered more comprehensive. The proposal aims to include crypto entities in the Bank Secrecy Law. Although facing resistance from crypto lobbyists, Warren gained surprising support from Wall Street bankers. Still, her approval in Congress remains uncertain.
Merger between Hut 8 and USBTC advances after court approval
Bitcoin mining company Hut 8 (NASDAQ:HUT) from Canada plans to finalize its merger with US USBTC after receiving approval from the Supreme Court of British Columbia. Announced in February 2023, the union will create "New Hut", a public company based in the USA. "New Hut" plans to have 825 megawatts distributed across six different mining facilities and will have its shares listed on the Nasdaq and Toronto exchanges under the ticker "HUT". Completion is expected by the end of 2023, with some requirements pending, including USBTC shareholder approval.
Legal developments after FTX collapse: Celebrities and agreements
Ben "BitBoy" Armstrong, influential in the crypto world, was excluded from a lawsuit related to the collapse of FTX. On the other hand, Jacksonville Jaguars quarterback Trevor Lawrence and influencers Kevin Paffrath and Tom Nash opted for a deal, the details of which were not revealed. As the FTX case progresses, former CEO Sam Bankman-Fried will face trial on fraud allegations on October 3. Recently, FTX took steps to recover funds and reopened its portal to creditor complaints.
Crypto Influencer arrested in Hong Kong for link to JPEX
Hong Kong police have detained Joseph Lam Chok, a popular crypto influencer, for his association with the JPEX platform. The operation was motivated after the China Securities Regulatory Commission referred the case, accusing JPEX of operating without proper registration and promoting its services illegally. After receiving 80 complaints and reports of losses of US$34 million from customers, JPEX stopped some of its activities. This action is in line with Hong Kong's efforts to regulate and combat fraudulent crypto activities since June 2023.
Billionaire Mark Cuban victim of phishing
Tech mogul and Dallas Mavericks owner Mark Cuban suffered a phishing scam, resulting in losses of approximately $870,000 in tokens. Cuban is suspected of downloading a fake MetaMask app, exposing his digital assets. After being alerted, he was able to save over $2.5 million by transferring his MATIC tokens from Polygon (COIN:MATICUSD). This incident comes shortly after Ethereum (COIN:ETHUSD) co-founder Vitalik Buterin had his account compromised in a similar scheme, causing losses to users who sent funds to a fraudulent link.
Retool points out Google's flaw in $15 million Fortress Trust hack
Software company Retool has attributed a $15 million hack on crypto custodian Fortress Trust to a Google (NASDAQ:GOOGL) account update that changed its authentication. According to Hacker News, this flaw allowed attackers to exploit a social engineering attack via SMS, where an employee was tricked into providing their credentials. The sophistication of the attack indicates the advanced skill of the hackers, highlighting the growing risks for crypto companies. Ripple later purchased Fortress Trust, repaying the committed funds.
ApeCoin DAO proposes investment in prominent NFTs
ApeCoin DAO proposal AIP-297, created by Yat Siu, co-founder of Animoca Brands, seeks to create an associated DAO and designate 750,000 APE to purchase renowned NFTs. With over 70% initial approval, the intention is to reinforce ApeCoin (COIN:APEUSD) as a key token in the web3 universe. Proposed NFTs include Bored Ape Yacht Club, Mutant Ape Yacht Club and others, managed by a community vault. The initiative aims to benefit the ApeCoin ecosystem by allowing NFTs to be rented and expanding the usefulness of ApeCoin. Voting will end soon with great support so far.
Blockchain Capital expands investments with new funds of $580 million
Even with a bear market in cryptocurrencies, Blockchain Capital continues to thrive. It recently closed two funds, totaling US$580 million. The funds will be allocated to six sectors, including decentralized finance and gaming. Spencer Bogart, partner at the firm, highlighted the collaboration with strategic partners such as Visa (NYSE:V) and PayPal (NASDAQ:PYPL), while the "opportunity fund" will focus on previously neglected projects. The company foresees the allocation of this capital in three years, although it may vary, and stands out for leading the majority of investment rounds.
Startup Bastion raises US$25 million to facilitate blockchain adoption by major brands
Bastion, founded by former a16z leaders, raised US$25 million in its first round of financing, led by a16z itself and with participation from other entities, as reported by Bloomberg. The company aims to simplify the integration of companies into blockchain technology and the web3 ecosystem, with a system that intelligently decides on on-chain and off-chain transactions. Bastion is already expanding its team with professionals specializing in regulation and compliance. The co-founders have previously worked on Meta's (NASDAQ:META) blockchain security infrastructure.
Startup Bubblemaps secures US$3.2 million for expansion
Parisian company Bubblemaps, specializing in blockchain data visualization, has raised $3.2 million in seed investment. Led by INCE Capital, the funding round featured several participants, including Owen 'Hasheur' Simonin. The capital will be used to expand the team, with an emphasis on developers, and intensify marketing on social media. Bubblemaps has ambitious plans to enhance its platform with innovative features and intends not to seek further funding until it meets its current goals.
Malta updates crypto regulations to align with EU MiCA
Malta Financial Services Authority (MFSA) has launched a public consultation on updates to its crypto guidelines to adhere to European Markets in Crypto Assets (MICA) regulations due in December 2024. The revisions include changes to the rules for exchanges and portfolio managers, adapting to European Union standards. Among the changes are the elimination of the system audit requirement for VFA licenses and the update of outsourcing requirements. The consultation will remain open until September 29th.
Chinese Central Bank expands functions of Digital Yuan application
The Central People's Bank of China (PBoC) has improved its digital yuan app, introducing a "services" menu that makes it easier for users to pay bills such as water, electricity and telephone. Furthermore, the application now integrates with various commercial platforms, allowing online shopping on renowned sites such as Meituan (USOTC:MPNGY), JD.com (NASDAQ:JD) and Taobao. Partnerships with companies such as Didi Chuxing (USOTC:DIDIY) and Vipshop have also been established. Forecasts indicate robust development of the digital yuan ecosystem by the end of 2025, with further significant advances expected in 2023.